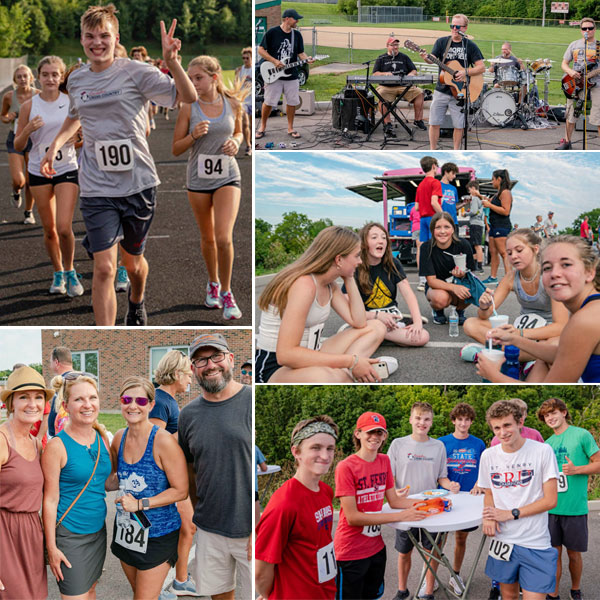 THANK YOU to all who attended our first ever Back 2 School Bash last Saturday after the campus 2K Run/Walk. We had a great turnout with a lot of Cru community fun! A special thanks to The Grateful Dads for the amazing music, Fabulous Funnel Cakes, La Torta Loca, and Braxton Brewery for the delicious food and refreshing drinks. Thank you to all the volunteers who helped make the evening run smoothly, you are appreciated! We look forward to making this event bigger and better next year!
FEC MEETING – All are welcome to attend our first FEC meeting on Tuesday 8/31 at 7 pm in the Media Center. Some items on the agenda will be the Homecoming tailgate, Homecoming parade/floats, Pampered Chef fundraiser, teacher grants, wiffleball tournament, Fall service events, Fall social events, and feedback/recap of recent events. Hope to see you there! Please contact Elaine Stich at [email protected] with any questions.
FEC SERVICE SURVEY
Thanks to everyone who shared your support and great ideas for FEC service events this year via the Cru Parents Facebook page. We've taken everyone's input, and have created a survey to help prioritize which causes we want to support, which event types we want to participate in, and who we want to do these events with. Please take just two minutes and share your feedback, and we will use it to define our service plans for the year. Thank you for your help! We'll have some great plans to announce in September. Please contact Michael Stich at [email protected] with any questions.
https://www.surveymonkey.com/r/YHGYZD2?fbclid=IwAR2rk9-BM5V7LR65Bbi3EyNv696H_66qc06Ah6aHfqdsNG3QED_V08BjlvY
IT'S THAT TIME AGAIN!
The FEC and Pampered Chef will be having their annual fundraiser! Super easy! Just click this link to order, and the FEC will receive a portion of the sales! https://www.pamperedchef.com/party/shdhsfec2021
This 20-year annual event has helped the PTO/FEC with the funds needed for many extras for our teachers and students! Our goal is to raise $2500 and to do this, we need sales of $16,000. With 200 $80 orders, we will hit that goal! Please be sure to share the link with everyone! We can do it!!
Incentives:
Free gift with an $80 order!
Free gift and FREE shipping on a $150 order!
Out-of uniform day for students whose families participate.
Bonuses
Earn a free small appliance of your choice:
Earn one entry for a FREE small appliance of your choice: air fryer, grill/griddle/ cooking blender/ NEW Flex Prep/ or Quick cooker with an order.
Two $300 tuition credit raffles
Earn tickets for a $300 tuition credit for each $50 order.
Any questions, please contact Kathie Cantrall at 859-250-4543 or [email protected]. (Catalogs provided on request.) To help Kathie know which student/students get credit/, please send Kathie an email with your order confirmation and the student(s) name(s).