Chromebook Purchase/Transfer Information
Click here to purchase/transfer 
Chromebooks have transformed modern-day classrooms. Instead of writing journal entries in a composition notebook, drawing on chalkboards, or finishing tests and assignments on paper, Chromebooks have unlocked a boundless world of educational tools that students can use. Educators now have access to G-Suite for Education, Learning apps, and much more. 
What is 1:1 technology? – The term one-to-one is applied to programs that provide all students in a school, district, or state with their own laptop, netbook, tablet computer, or another mobile computing device. One-to-one refers to one computer for every student."
The accessibility of technology in schools has increased, prompting school districts to implement Chromebooks in their classrooms. 
Personalized Assignments – Technology helps educators select custom assignments for students struggling in the classroom. If a student takes an online test, teachers can look at the student's historical testing data to determine if their test scores have increased or decreased over time. Depending on the results, educators can assign projects and activities accordingly depending on the students' needs. 
Adaptive Learning – All students learn differently. One student might learn more effectively through videos and pictures; another might enjoy reading text preceded by a comprehension test. Regardless of the students' learning style, educators can quickly adapt their materials to their specific needs through digital apps and tools. 
Increased Creative Outlets – There are hundreds of apps students can use to work on projects, study, create presentations, and more. Having these easy-to-use creative outlets gives students more ways to develop and learn.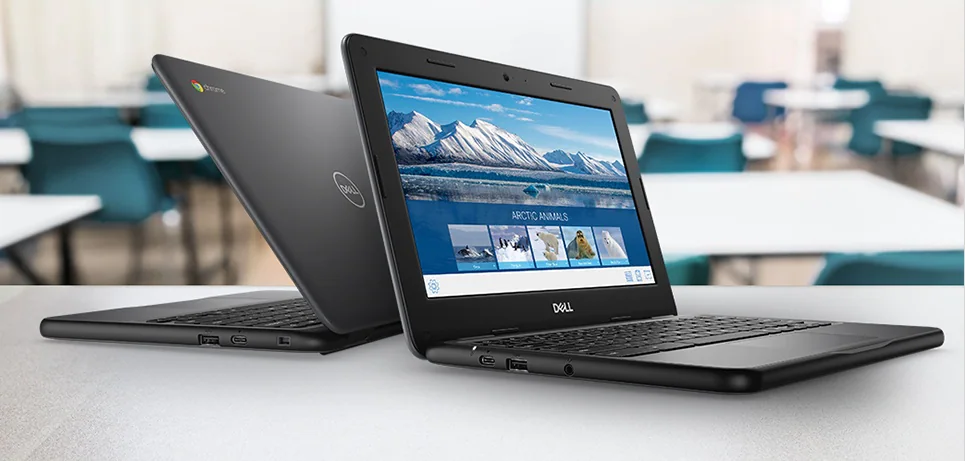 Dell 11 Chromebook 3100 Education Specifications
Processor – Intel Celeron N4020 (Dual Core, up to 2.8GHz, 4M Cache, 6W)
Operating System – Chrome O/S
Display Type – 11.6″ HD 1366 x 768 WVA 16:9 Touch with Corning® Gorilla® Glass NBT, Camera & Microphone
Warranty – 4 years
AC Adapter – 45 watt AC
Battery – 3 Cell Li-Polymer 42WHr
Camera – 720p HD
Protective Case – Included
Preparation for the Future – Technology is the future, and to be able to succeed in both school and work, students will be required to understand how to use digital technology. Incorporating tech into every classroom gives children greater access to tech and helps prepare them for their future endeavors. 
Equal Learning Opportunities – Technology in the classroom allows students of all abilities to learn, ask questions, and engage in course activities. Students needing special accommodations can still participate in class without being singled out. 
Curriculum Experimentation – Experimentation is a part of the curriculum creation process, but with technology, educators can see the instant results of their lessons and make changes as needed. 
Chromebook Transfer Information
Over the past few years, we have noticed that more and more of our feeder schools have begun to incorporate the use of Chromebooks in their classrooms, especially in the middle school grades. With this in mind, we have revised our technology policy to accommodate those families that purchased a Chromebook before enrolling at SHDHS. Students will have the option of bringing in their pre-purchased Chromebook devices (rather than buying one through the school). However, please note that, if you choose to bring in your own Chromebook, the following conditions will apply:
A $125 Chromebook Transition Fee will be assessed per personal Chromebook device. The Transition Fee covers all costs associated with using and monitoring each student's Chromebook at SHDHS for up to four years. (If you choose to purchase a new Chromebook from SHDHS, this fee is already covered within the $550 total cost).

The school's Chromebook insurance program will not cover a personal Chromebook that is NOT purchased through the school

. Therefore, if a personal Chromebook is lost, stolen, or damaged, it is the family's responsibility to repair or replace the device at their own cost, AND they must secure another Chromebook device to use in the interim. In such a situation, students may borrow a loaner Chromebook from the SHDHS IT Department at a fee of $3 per day. As mentioned above, loaner Chromebooks are available on a first-come, first-served basis, and a loaner device may not always be available.
Any student choosing to supply their own Chromebook MUST schedule a meeting time with our IT Department to register their device on our system before the school year starts. To request a meeting time, please send an email to

[email protected]

.
Every student and their parent must read, sign, and submit the SHDHS Responsible Use Policy (RUP) form.