Thank you for visiting Saint Henry District High School (SHDHS). As Northern Kentucky's largest Catholic coeducational high school, we believe that every student benefits from our personalized approach to education. The faculty, administration, and staff of SHDHS endeavor to respect individual differences, thereby discovering and developing the special talents of our students. Within our Christian community, we strive to promote each student's personal freedom, thus encouraging students to assume the responsibility for his/her own development. Only through experiencing freedom can a student be trained in responsibility.
At SHDHS, students have the opportunity to take part in the life of the school, its discipline, and all its operations. By promoting the welfare of SHDHS as a whole, we aim to build within our students a positive attitude toward taking responsibility for their learning. We also acknowledge that parents are the primary educators of their children. At SHDHS, parents share their responsibility with teachers competently trained to guide students as they develop their God-given talents. A coordinated effort between parents and teachers is the key to ensuring a successful high school experience for each and everyone of our students.
Since every man of whatever race, condition, and age is endowed with the dignity of a person, he has an inalienable right to an education corresponding to his proper destiny and suited to his native talents, his sex, his cultural background, and his ancestral heritage. At the same time, this education should pave the way to brotherly association with other peoples so that genuine unity and peace on earth may be promoted. For a true education aims at the formation of the human person with respect to the good of those societies of which, as a man, he is a member, and in whose responsibilities, as an adult, he will share.
~ Declaration on Christian Education, Vatican II, Gravissimum Educationis, 20 Oct. 1965
St. Henry District High School (SHDHS) is committed to providing a well-rounded, college-preparatory education that teaches students to live the Catholic faith by embracing the Gospel message of Jesus Christ. SHDHS is an active faith community characterized by our five pillars of success: faith, scholarship, athletics, arts, and leadership.
SHDHS has a long tradition of adapting to serve the needs of our community. The school is now in its fourth location. Originally founded in 1933, the first classes were held in the balcony of St. Henry Church until a separate school building was erected.
In 1948, the school moved again. At that time the Benedictine Sisters were serving children from eleven parishes: Blessed Sacrament, St. Paul, St. Joseph in Crescent Springs, St. Agnes, St. John's in Covington, All Saints in Walton, Hold Guardian Angels in Sanfordtown, St. Aloysius, Mother of God, St. Anthony in Forest Hills, and St. Cecilia.
In 1967, a new building was constructed as the high school continued to grow. Eventually the Diocese of Covington converted the school to a district high school serving the parishes of St. Paul, St. Barbara, St. Timothy, Immaculate Heart of Mary, Mary Queen of Heaven, St. Henry, Christo Rey, and All Saints.
On September 9, 1998, the new campus of St. Henry District High School location was opened to its largest student body in history. The school continues to grow as it expands every year to serve the Catholic High School students of Boone and Kenton Counties. We also have students from Lawrenceburg and Aurora, Indiana.
St. Henry, our Patron Saint, was born in Bavaria in 973. He succeeded his father in ruling over a duchy and was later elected emperor. He was most remarkable for his work in Church reform and for fostering missionary activity. Firmly anchored upon the great eternal truths, St. Henry was sustained by daily prayer and meditation. He did not seek fame or power, only the greater glory of God. St. Henry died in 1024 and was enrolled among the saints by Pope Eugene III in 1146.
St. Henry District High School (SHDHS) is committed to providing a well-rounded, college-preparatory education that teaches students to live the Catholic faith by embracing the Gospel message of Jesus Christ. SHDHS is an active faith community characterized by our five pillars of success: faith, scholarship, athletics, arts, and leadership.
St. Henry District High School Recognized as a National Blue Ribbon School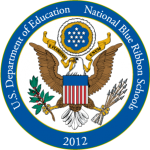 U.S. Secretary of Education Arne Duncan today recognized 269 schools as 2012 National Blue Ribbon Schools based on their overall academic excellence or for making progress in improving student academic achievement levels. Secretary Duncan was joined by Arlington Public Schools Superintendent Patrick Murphy for the announcement at Arlington Traditional Elementary School in Arlington, Va.
The Department honored approximately 219 public and 50 private schools at a recognition ceremony on Nov. 12-13, 2012 in Washington, D.C. In its 30-year history, the National Blue Ribbon Schools Program has bestowed this coveted award on nearly 7,000 of America's schools.
The National Blue Ribbon Schools award honors public and private elementary, middle, and high schools where students perform at very high levels or where significant improvements are being made in students' levels of achievement.
St. Henry District High School was recognized in the first performance category – "Exemplary High Performing School." These schools are recognized among their state's highest performing schools, as measured by state assessments or nationally-normed tests. SHDHS was one of only six private High Schools in the nation to be recognized with this designation in 2012.
To select National Blue Ribbon Schools, the Department requests nominations from the top education official in every state, the District of Columbia, Puerto Rico, the Department of Defense Education Activity, and the Bureau of Indian Education. The Council for American Private Education (CAPE) nominates private schools. A total of 417 schools nationwide may be nominated, with allocations determined by the numbers of K-12 students and schools in each jurisdiction. The Secretary of Education invites nominated schools to submit an application for possible recognition as a National Blue Ribbon School.
"Lord, we thank you for the blessing of belonging to the SHDHS family. Whether as students or alumni, faculty or staff, parents or friends, we are one in Christ. Help us to live the calling that comes with this gift; the call to excellence in faith, leadership, academics, arts, and athletics. Help us to be like St. Henry and make a difference in this world by faithfully living the gospel. Grant this through Christ our Lord. Amen."
On St. Henry, On St. Henry,
come on do your best!
Remember what you're fighting for,
the SHDHS!
RAH! RAH! RAH!
We are mighty, we are loyal,
to the Red and White!
So come on and win this game
and fight, Fight, FIGHT!